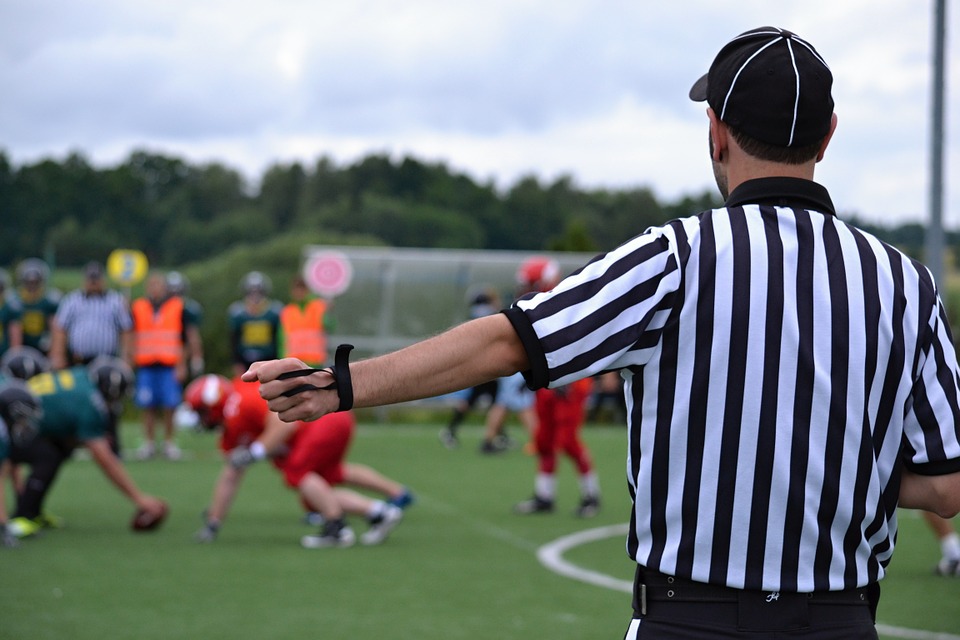 Why do Officials "Officiate"?
I recently came across the 2017 National Sports Officiating Study that surveyed over 17,000 officials in various sports in the USA.
Below is a summary of the results that youth sport coaches, parents and even players should be made aware of so that we can reduce the attrition rate we are seeing in youth sports today.
Why did you start to be an official?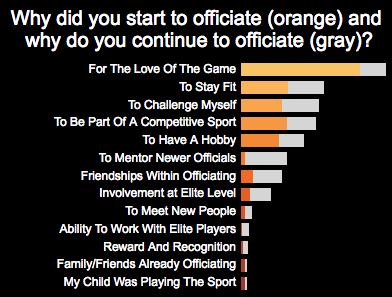 The number 1 reason that officials started was "For the Love of the Game" which is the second reason why coaches put their hands up to coach (the first is due to the fact their son or daughter are playing the sport) that I shared Why Coaches Coach in previous blog post.
One of the biggest challenges that youth sports officials face today is the verbal abuse they are taking from others involved (coaches, parents, administrators and players) which is leading to many of them quitting only a few years after they started.  Officials Supervisors from Hockey, Soccer, Baseball, Lacrosse have all shared with me they lose on average 1/3 of their officials annually and up to 50% within their first 3 years.
Below are the results where over 45% of male and female officials have felt unsafe because of behaviour from others.  I have heard all forms of horror stories over the years from officials how they have been verbally abused during games, even after games as they were heading to the dressing room or leaving the facility heading to their vehicles.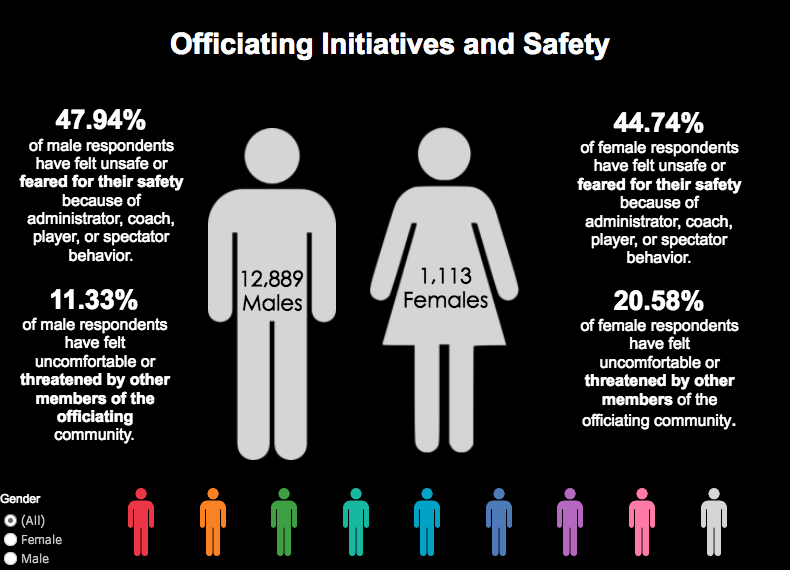 This statistic truly does not surprise as a result, and shows how much work we still have to do to not only make it safe for players but also officials from the various forms of harassment impacting youth sports today.
Of the respondents, 70% were officials at the youth or high school level, less than 7% were professional.
Ask yourself – Why is ok to harass youth sport officials but not ok to harass professional officials? If people do so from the stands they are either ejected by the official or security.  What about the others, sports exec, coaches or players?  Would we condone the same behaviour in the workplace?  In University classrooms? In other public places like restaurants?
WHAT ABOUT SPORTSMANSHIP?
Top level sportsmanship was identified as the worst was at the youth competitive level (36.01%) and the worst culprits identified by officials are the parents, almost 40%, followed by coaches (just shy of 30%).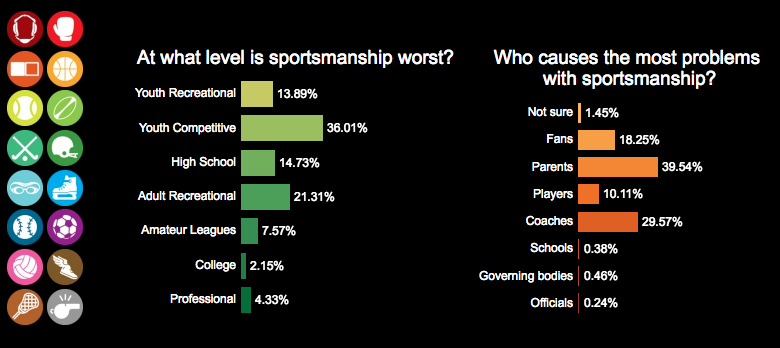 Although I have not come across a study that has identified what level is the majority of kids that are quitting youth sports by 13, based on all those I have interacted with over the years I would say it would be skewed by kids from youth competitive vs. recreational level.  Why ? Because even some coaches of U10 teams are taking competition way over the top to win at all costs.
Previously I shared insight, why kids quit lacrosse, from the retention report from Alberta Lacrosse who surveyed over 1000 families why their son or daughter quit and one of the top other reasons why they quit was due to poor sportsmanship.
Start of your officiating "Career"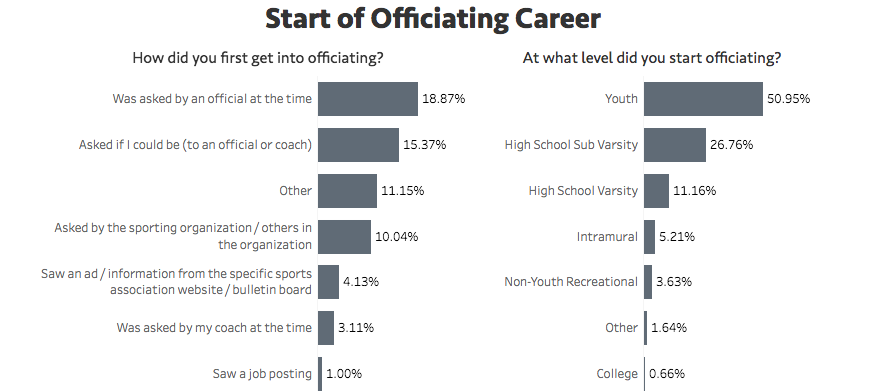 The number 1 reason why officials get started is they are asked by a fellow official to do so and over 50% start out as a youth sport official. I have known a number of officials over the years that developed in youth sports and some are now reffing or umping at junior, major junior or collegiate ranks and applauded them for sticking with it.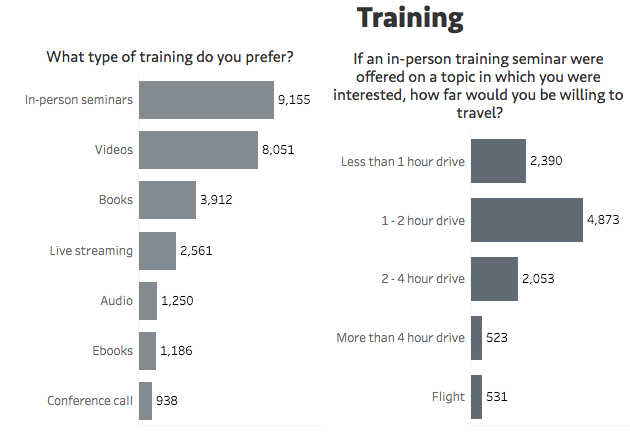 The number 1 method of training that officials prefer is face to face clinics (over 50% of the respondents) followed closely by video training (online). What I thought was interesting is almost half of those that responded would drive up to 2 hours to do a face to face clinic and a further 20% would be willing to drive up to 4 hours to do so.
Although the same study has not been done for youth sport coaches,  I would say the results would be the same, many prefer the in person workshops/clinic format over online due to fact they get an opportunity to interact and learn not only from the instructor but others in the clinic. They also may be forced to drive several hours to do so, partly as "live" clinics are not available in their area, but partly because they slept at the wheel so to speak and missed the opportunity for ones closer to them.
As we are heading down the final stretch of Hockey Canada Clinics for this season, it is amazing how many calls and emails I personally have received from coaches trying to get into clinics this past week that were full or even ones that have walked up hoping we can squeeze them in.
The reality is there is the resources are limited, number of facilitators, associations that can accommodate with ice slots, rooms and what have you in hockey and suspect the same holds true in other sports.  We also have had our challenges this year due the fact we have brought back the intro to coaching module for coaches of 5-8 year old players, but still coaches are being told they should take the "new" Coach to module (Ages 9+).  Anytime there are changes it usually takes a season to debug and will be clear for all involved next season but although live workshops is the preferred mode for training, more and more youth sports are developing online training to ensure their coaches complete the necessary training.
SHOW ME DA MONEY (Jerry McGuire)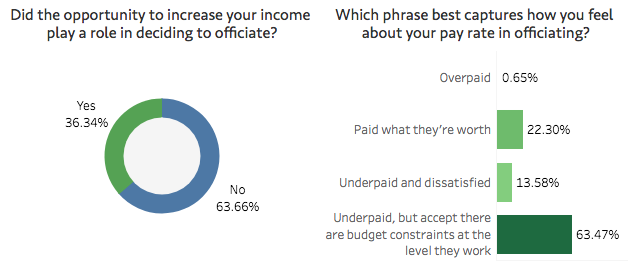 Approximately 2/3 of those that started as officials did NOT do so for the pay (per prior number reason they started was due to the love of the game) and almost the same % feel they are underpaid but understand budget constraints in their respective sports.
Translation – even with all the abuse they officials take, they do it because the love the game, they want to give the kids an opportunity to love it like they do.
ONLY 22% of officials felt they were paid what they are worth
COSTS OF OFFICIATING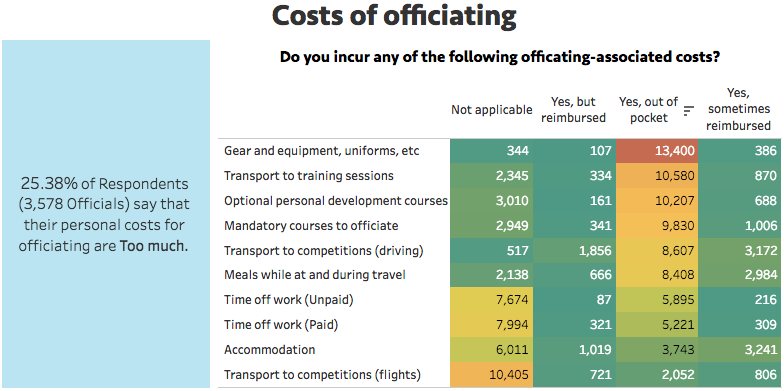 Like Youth Sport Coaches who incur out of pocket costs, officials also incur costs to do so which includes the opportunity loss taking time off their full time jobs.
Gear and equipment, transport, optional and mandatory development courses, meals, accommodations and even flights can come out of their own pockets with less than aa 1/3 getting reimbursement for same.
Approximately 30% of officials will spend over $1000 a year that is not reimbursed by their sports and over 50% reported their income was less than $5000 a year.
In sum, before you start yelling at an official at a game like Ray Winstone in below video ….
Think of the following before you do so;
They are normally an age group above the team they are officiating and in most sports don't start until they are 12..
They start because they love the game, are asked by a fellow official to do so every sport needs new officials every year due to problems with retention
They do get paid, but only a small honorarium and like youth sport coaches have to take clinics, professional development and may have to drive 4 hours to do so as well as buy equipment and incur other expenses to do so
The costs they incur to do so may be 25% or more of what they receive in terms of fees per year and majority do not not make a living doing so (far from it as over 50% make less than $5K a year)
Over 45% of them have felt unsafe due to the behavior of the adults (coaches, parents, admin) or players
AND
Even though they are doing so, 33% on average will quit being officials every year due to the abuse they take.
I suspect if they official was your son or daughter that was getting verbally abused by others the hairs on the back of your neck rise up as it happens.
Relax – It' Just a GAME.  Youth sports need officials as much as coaches, administrators and we need to respect the fact they are learning just as everyone else is.
We also need to give them thanks, Kudo's and praise (not constant criticism) for stepping up to be officials, without them, we could not have organized sports.
Let's work together to bring the game back to the kids … where it belongs.

Comments
comments