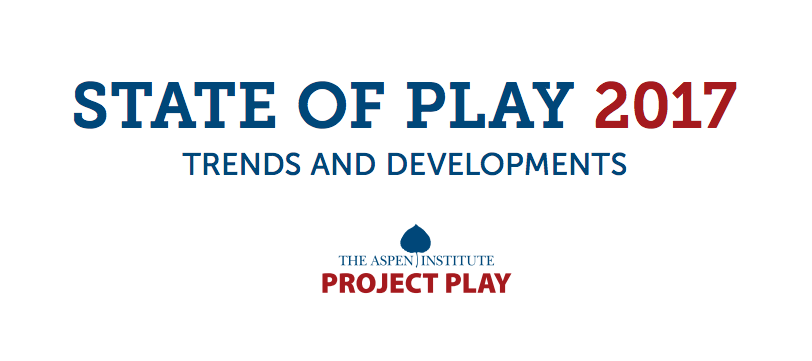 I just received a copy of Aspen Institutes State of Play Report for 2017 and total Team Sport Participation Rates in the USA continue to decline, now 37% in 2017 so another 2% drop from 2016 and 13% decrease since 2011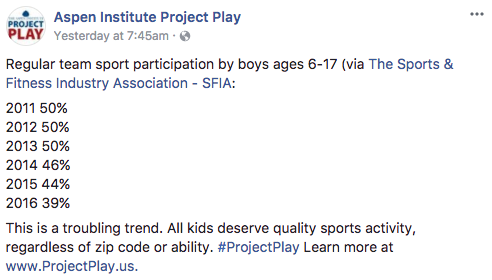 Core Participation in Select Sports
Majority of team sports saw decreases in participation year over year with the exception of a few identified in 6: Design for development below.  Similar trends also are happening in Canada with retention year over year continuing to be a challenge.
Youth Sports Participation by demographic
Below is a summary of children who played a team sport between the ages of 6 and 12 and highlights the glaring discrepancy of the haves (households with over 100K income) vs the have not (>25K in household income) there is a 33.8% difference in participation (34.6% vs. 68.4%).

Why?
Because of the emergence of travel ball, "elitist" programs vs. local sports programs making it harder for the have nots to participate in team sports
Coaching lacking certification

Approximately 1/3 of youth sports coaches have certification comparable to what many sports have in Canada,  in particular Hockey's NCCP program and now Soccer and various others sports are starting to require their coaches to be certified in same criteria (safety, skills/tactics, CATT, coaching and conditioning/injury prevention).   I think Hockey Canada will continue setting the bar for certification as they have done so for decades, but it is good to see other sports in Canada following a similar model to ensure their coaches at all age groups are certified.
Yet another glaring discrepancy in terms of household income were where coaches come from, 65% are those whose household incomes are $75,000+

The Canadian statistics coincidentally are literally the same based on a recent study (Financial Commitments of Volunteer Coaches in the Province of New Brunswick) shared with me conducted by Dr. Jonathon Edwards at the University of New Brunswick and Dr. Cory Kulczycki at the University of Regina.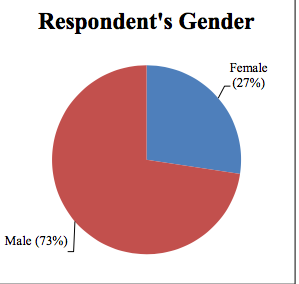 .
73% of CDN youth sport coaches surveyed were male (vs. 72% in the USA) and 64% of the coaches had household incomes $80K + (vs. 65% over 75K in the USA).
There has been much talk in recent years how youth sports has become the pay to play model, and those that have can and will play youth sports and those that don't won't.  It also holds true for those that youth sports depend on, 2/3 of the volunteer coaches come from high income households and there is still a significant gender discrepancy where approx. ¾ of the youth sports coaches are male.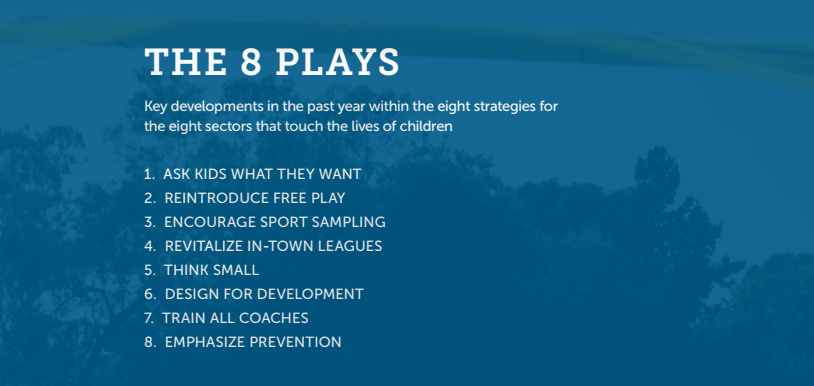 Project Play further highlights the 8 plays required to change the state of play in the USA and is also prevalent for youth sports in Canada;
1:Ask Kids what they want
It dumbfounds me each time I speak for a sports organization and talk to their executive members if they have done their due diligence to understand their "avatar", their customer (the kid) and more often than not the answer is no.
Why do you think the Video Game industry has exploded over the last 20 years since Sony Introduced the playstation in 1994 and Microsoft introduced the Xbox in 2001?
Because they ask what kids want, every time they are developing a new game or next gen version they conduct the necessary market research to meet the needs of their customers.
It has now evolved into "a Sport", egaming is the #1 "sport" that adolescents participate in today, because they have fun playing and also are free from criticism from adults that is impacting youth sports, no coaches, adults or officials.  If they "fail" all kids do is press the reset button and play again.
Social Media platforms like Instagram, Snap Chat and others that have been adopted by Gen Z (those born after 1996) have done the same.
2:Reintroduce Free Play
Remember when you grew up how much time you spent outside in unorganized activities?  Hours playing on the street, in a park, at a lake?
What was the one constant?
No coaches – Parents – Officials
It was kids playing kids (not adults competing with other adults thru kids), making our teams, making and enforcing our own rules, no fancy uniforms and only time we would hear from our parents was when they were calling us home for dinner.
We will never get back to the good old days, but we must figure out a way to bring back more free play,  like the recent example of loosely supervised baseball.
When one of the players was asked what he preferred and he stated "un"organized baseball.
When prompted by the journalist if he should tell his dad the boy said "Yeah" with a huge smile on his face.
3:Encourage Sport Sampling
One of the top 3 questions I get asked at every talk is how do we deal with early sport specialization?
Gone also are the days where kids would try many, many sports in their pre-adolescent years (6-12 years old) then play a few organized sports they liked most in their early adolescent years to then specialize in their late teens after they graduated from high school.
Now the trend is for kids to specialize in a early sport due to sport development private organizations identifying they have "real promise, are elite, are high level prospect" at 6!
There is no data I have come across that supports early talent identification will equate to getting a NCAA scholarship or playing professionally in any team sports, all are long term athletic development sports and requires years
Below is a recent example from a study by Oakland's USCF Benioffs's Children's Hospital of NBA basketball players, those that were multi-sport athletes had much lower injury rates (10X less) than their single sport (basketball only) in AND their playing careers were longer vs. those that only played basketball in high school.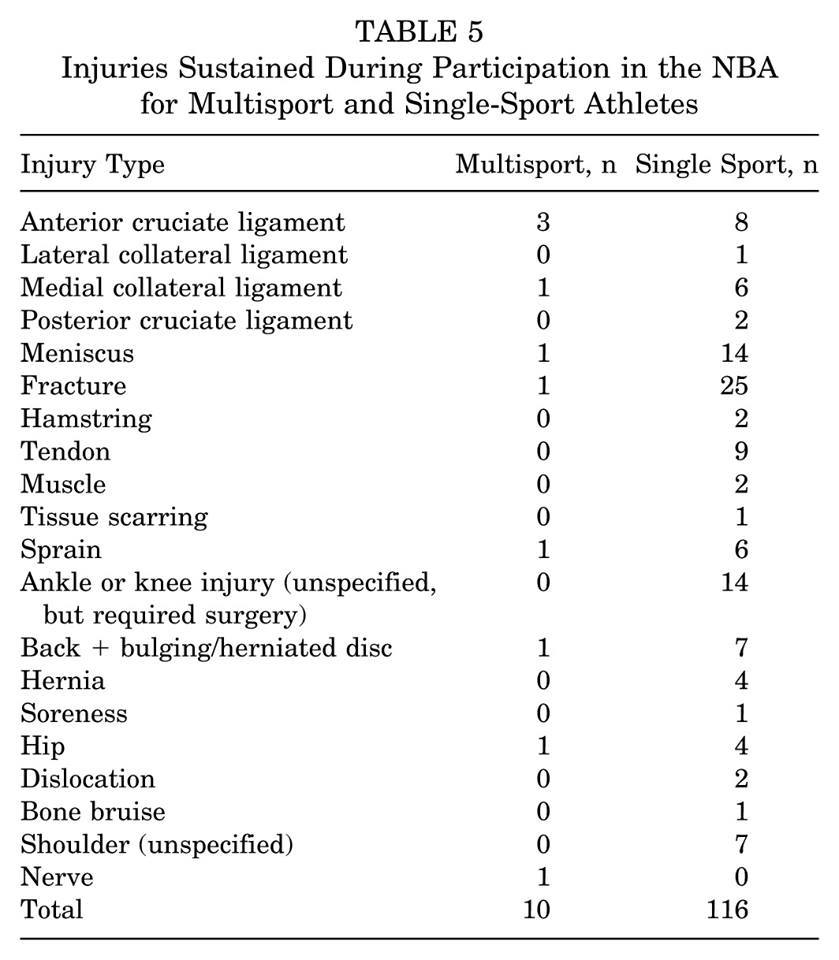 The most recent endorsement for multi-sport participation came from MLB commissioner Rob Manifred in the Project Play 2017 Report and when sitting on a panel at the Fall Summit, along all global Hockey Organizations doing the same in the declaration of principles announced in Sept. 2017.
4:Rivitalize In-Town Leagues
This is probably my biggest frustration with minor hockey, particularly at the rep (competitive level), in the lower mainland of Vancouver there are 43 minor hockey associations, all of which have AAA, AA, A and Recreational level teams providing more than ample opportunity for teams to play similar tiered teams in tournaments, home and away ex games.
In lieu, more and more "paid" rep coaches are making travel tournaments mandatory requiring flights, hotels, rental cars, meals and so forth leading to family out of pocket costs exceeding $3,000 per tournament.
One player I had coached played on a spring hockey team when he was 12 years old and his Dad shared with me he kept track of all the travel receipts for the 5 tournaments they went to and it exceeded over $20,000 over the course of 12 weeks and did not even account for spring fees, uniforms!
When I grew up, majority of my organized games were within 30 minutes of our home field or rink, the rest was minutes (free play in parks, streets, courts where were developed our creativity and love for the game).
We need to scale back the travel and bring the game back to our communities so all kids have the opportunity to participate, not just the haves.
5:Think Small
This season Hockey Canada made cross ice hockey mandatory for the U7 age group (5-6 yr old players), then will make U9 (7-8 yr. old players) mandatory in 2019-20 season.
Why?
Because all the data shows in order to adhere to LTAD, kids should play on surfaces and with equipment that is age appropriate to increase puck touches, shots, passing, receiving, body contact etc.
6 year old kids playing full ice hockey is like an adult playing on a football field per the video below;
My analogy for Full ice hockey for players below 10 years old is the beehive, only the early bloomers will have the puck and the rest of the kids will chase them all over the ice like a bee hive.
Others sports have incorporated small area games, and playing surfaces including Soccer (smaller field and nets), football, softball/baseball (distance pitchers have to pitch), basketball (lower height for nets).
6: Design for Development
Tennis in the USA has seen the biggest participation increase amongst all youth sports, joining only gymnastics, flag football, ice hockey, lacrosse and wrestling as sports that are growing (albeit close to flat growth) whereas  Tackle Football, Baseball and Basketball have seen decreases over the same time period.
USA Tennis was the first to endorse multi-sport participation in the USA and has also been the front running in age appropriate development to include smaller player surfaces, lower nets, different sized racquets and even balls to help players develop confidence in key motor skill development years.
An argument for EQUAL playing time has also really come to light to increase player confidence and youth participation – FINALLY.  I have been arguing for fair ice policies in hockey for years and in the last couple of years now takes up the first two pages of google when 5 years ago one would be hard pressed to find associations, Regional or PSO's to have fair ice policies.
Now other sports are doing the same, they are promoting safe to fail environments where it is ok for kids to make mistakes to ensure that ALL kids, not just the top players get playing time.
7: Train All Coaches
As the stats showed prior, only 1/3 of youth sport coaches in the USA are trained in all the core competencies of coaching.  This is an area that I know that Canada has worked on, all minor hockey coaches have to complete various levels of certification relative to the age group involved with, and more and more national sports are incorporating mandatory certification.
Soccer is one that is rolling out their coaching certification requirements for all levels in recent years, but in past only coaches above U13 required certification.  This was an area that Jason De Vos, technical director for Soccer Canada, identified must change in order to develop Canada's players to follow their recently developed LTPD model.
8:Emphasize Prevention
In March of 2017, the US Centre for Safesport was launched with the authority to work with all National Sporting Bodies (NGB's) to report ANY claims of abuse or harassment (includes bullying, harassment, hazing and physical, sexual and emotional abuse.
This has been a long time coming, and I suspect they will be looking at incorporating online education like Canada's Respect Group established in 2004 has provided for coaches, parents to provide the necessary education so that we reduce and ultimately eliminate the various forms of harassment that still impact youth sports today.
If we follow the 8 recommendations from Project Play in both the USA and Canada I believe that we will see the much needed shift we need to see in youth sports.
Let's work together to bring the game back to the kids … where it belongs.

Comments
comments